Inside the Studio of a Newborn Photographer: 5 Essential Newborn Set-Ups


With various poses to consider, props to include, and accessories to use, it's important to plan a newborn photo session ahead of time. This ensures you maximize your time with the newborn, and don't get sidetracked by any unplanned crying or fussy temperaments. If you're just venturing into this genre, or you find you need some planning tips, let newborn photographer Kristeen Waddell, of Kristeen Marie Photography, help! In her first guest blog post for CG Pro Prints, Waddell discusses 5 essential poses all newborn photographers can use to get shots their clients will love. Waddell even includes links to some of her favorite newborn photography products to help get you started.
My studio has come a long way over the years. It started out as a traveling studio that I brought to my clients' home. This involved lugging three crates of props/blankets, backdrop stands, a giant beanbag, and lighting. That was a process, but it worked for me at the time. After my traveling studio, I had a smaller studio that required me to move things around in a tight space, but it challenged me to be creative. About a year ago I moved into the studio I'm in now, and it's prefect. There is lots of natural light, space, and storage.
Even though I've moved spaces throughout the years, my workflow and go-to poses have remained pretty consistent. Here are my top 5 set-ups that I aim to achieve for every newborn session:
Family Pictures

I normally start the session with family pictures, especially if there are older siblings participating in the session. This allows for the older siblings to leave after they are done with family/sibling pictures. During this time I do pictures of the whole family together, mom with baby, and dad with baby.

Wrapped Baby

Next I'll swaddle baby up. This allows for baby to fall into a deep sleep before I start with harder poses. If there are older siblings participating in the session this is also a great set-up to do with both baby alone and baby with sibling(s).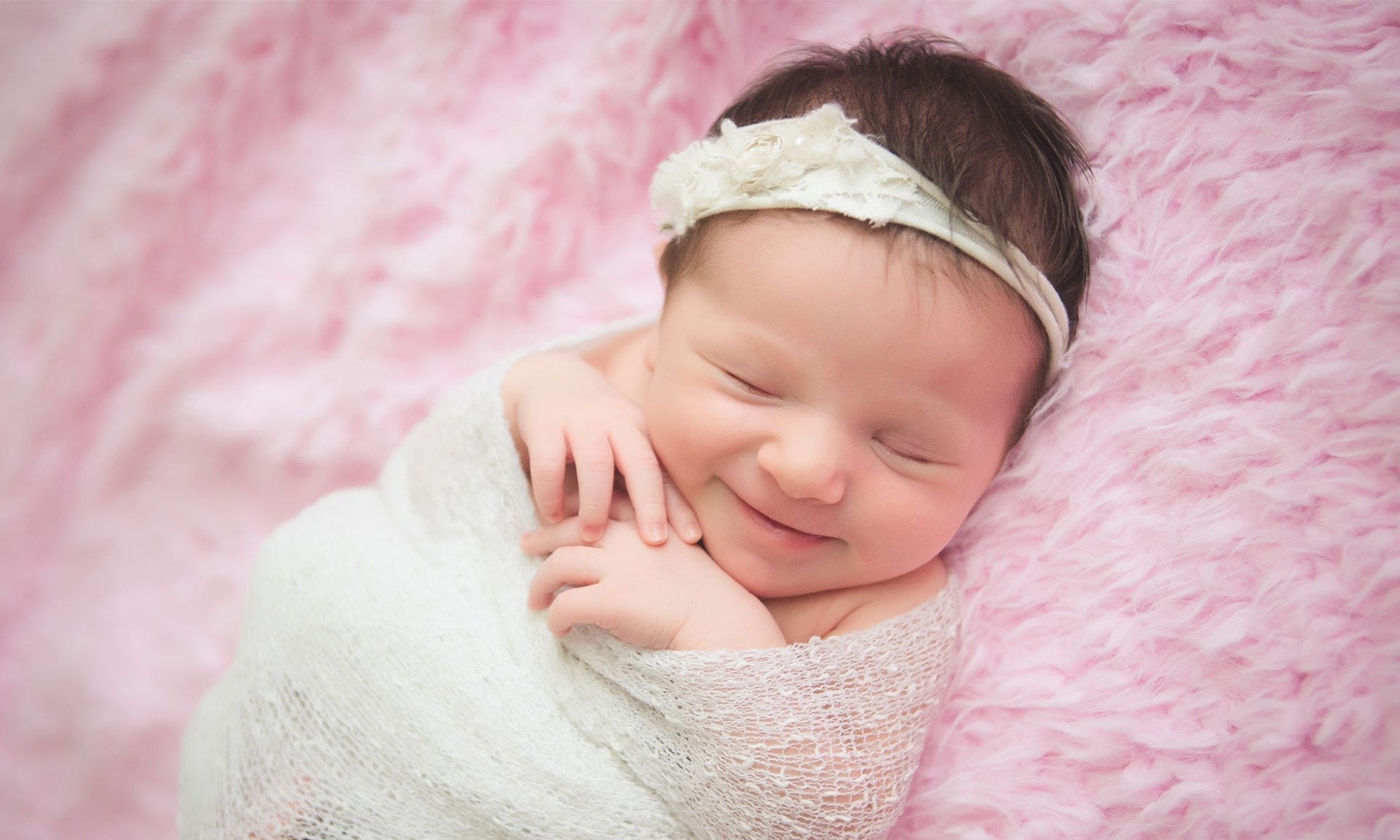 Baby on Beanbag

As a newborn photographer my most used equipment besides my camera is my newborn photography posing beanbag and a newborn photography backdrop stand. These tools allow me to shoot the more traditional type of newborn photography poses. In each pose that I do with the baby, I'll change out headbands and add wraps. Doing this gives my clients a variety of images with minimal disruption to the baby.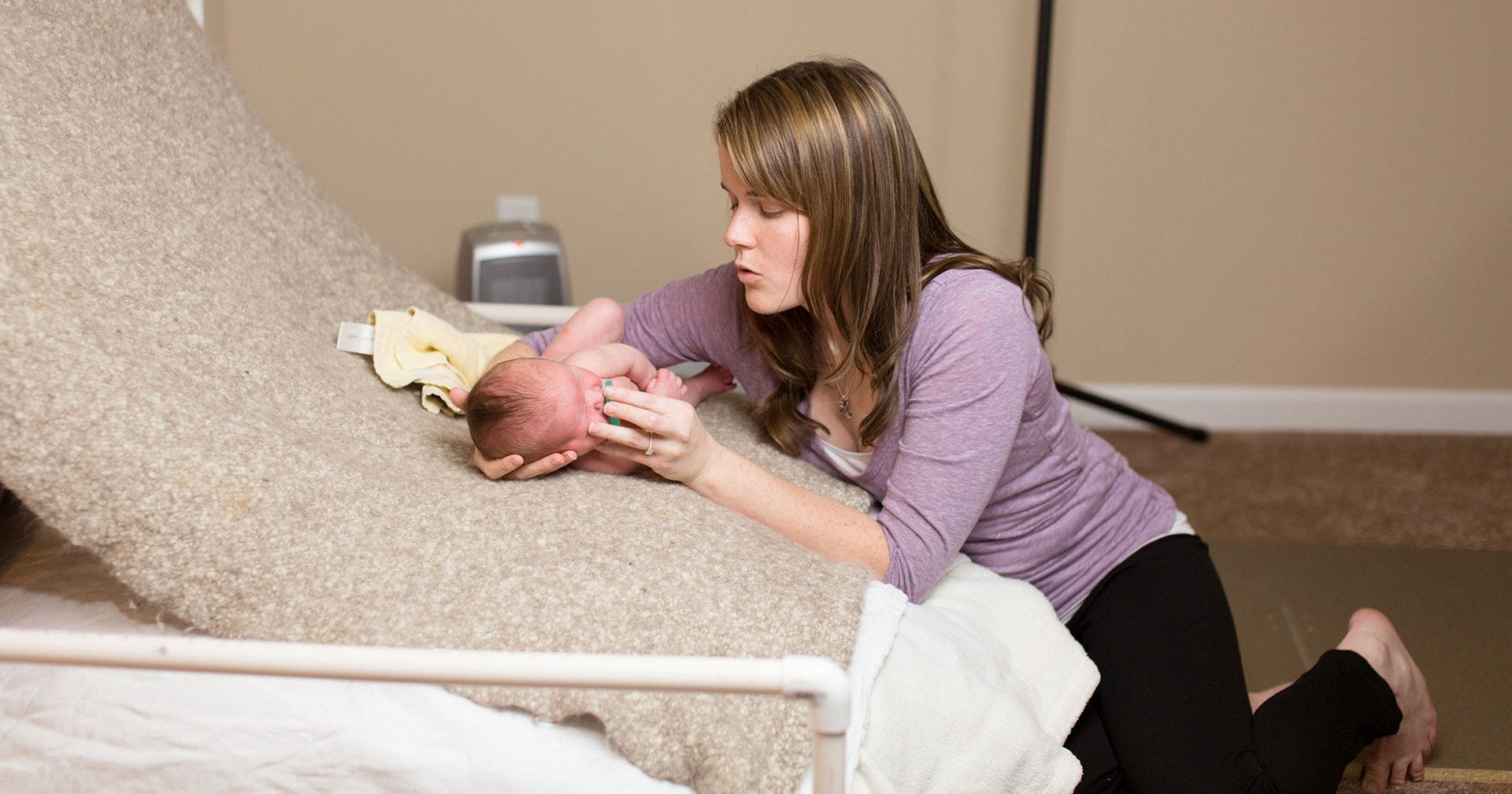 Baby in a Bucket
There are two different types of prop shots that I like to do. The first is baby in a bucket. I let the client choose from one of the many buckets or baskets that I have in my studio. For these shots, I focus on getting a good portrait of the baby's face leaning over the side of the bucket. I'll also ensure I get a good pull back that includes lots of white space around the bucket. This allows me to have one image that will look fantastic on a canvas (the pullback shot) and a series of images that will look great together in an album. When choosing a bucket/basket, I try to find buckets that are around 12 inches tall and at least 9 inches in diameter. If big siblings are still in the studio then I'll also add them into this set-up when I've finished getting all the other shots that I need.

Baby in a Bowl

This is the second prop shot that I like to do. The goal of this set-up is to get baby's whole body (unlike the last set-up where we were focusing on the baby's portrait). The baby curled up and wrinkled in the bucket is just too cute! While the baby is in this pose I'll also get all the macro detail shots (nose, hands, feet, eye lashes, etc.). These bowls should be about 12-20 inches in diameter. I love to fill these bowls with anything that has texture before I place the baby in the bowl. My favorite is using farm fluff from Oh So Fleeting. I normally save this set-up for the end of the session. If baby awakens but isn't crying or fussy, it's ok. I'll just wrap baby for this set-up and take the pictures with baby awake.
I always make sure to get at least one of each of these set-ups for every newborn session that I photograph. If the baby is still settled after I get though all these set-ups I'll typically add in a few extra shots (whichever the parents like most).