3 Ways to Set Yourself Apart as a Senior Photographer

When I began my senior photography business, I remember feeling so overwhelmed. There were SO many experienced, established photographers in my area. It seemed they had already saturated the market for senior portraits…so how in the world was I going to stand out and book my own clients? I recognized very early on that I was going to need to be intentional and strategic about ensuring that my business was set apart from the other photographers in my area. Especially because I was only 17 at the time!!! But, that's a whole different blog post :) I experimented with different ways to set myself apart, and came to the conclusion that there are THREE strategies that truly helped me to build a business that was set apart from competitors in my market. And, I want to break those 3 things down for you today! If you are struggling to build a business in a saturated market, here are the 3 ways to ensure your business will stand out from the crowd:
1. Market the EXPERIENCE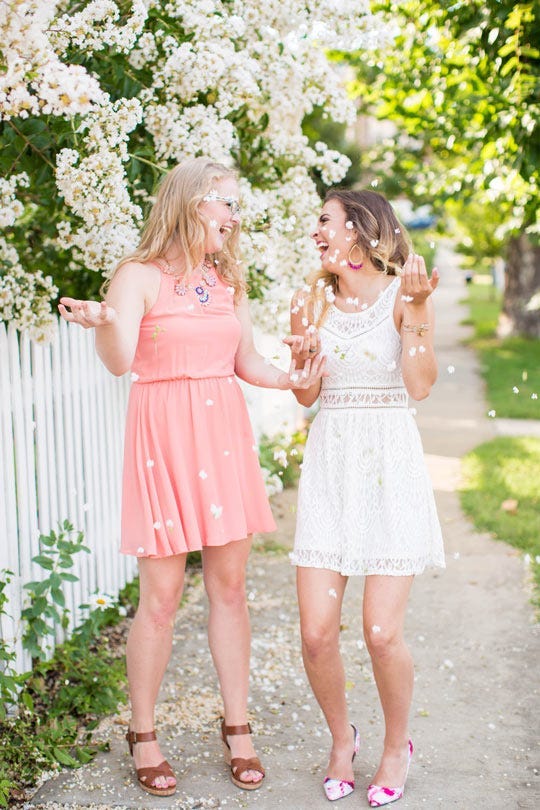 As photographers, the obvious and easiest way to market our businesses is to highlight the IMAGES that we capture. But, this isn't the only thing that you should be sharing about in your marketing strategies! ONLY sharing about the work you create will make it hard for potential clients to set you apart. Instead, try mixing in marketing strategies that highlight the EXPERIENCE that you provide for your clients - not just the images that result from each shoot! For example, before I share a professional sneak peek from each of my shoots, I will share TONS of behind-the-scenes pictures and videos on my Instagram stories! This allows my followers to see a peek into the FUN that goes into the shoot and the EXPERIENCE that my seniors receive - which is so much more valuable than just the images! Next time you are at a senior session, consider passing your phone off your client's mom to capture some peeks into the shoot, or capturing some behind the scenes shots yourself! Try to highlight how much fun your unique senior experience is and the things that set you apart! I've even shared iPhone images of me eating Chick-Fil-A between locations with my girls in an open field on the side of the road - haha!!
2. Market who YOU are
In addition to marketing your experience…you are going to want to market who you are as a part of your brand. If you clients are only seeing you post about business and professional images…they can't connect with you. They aren't viewing you as a person, they are just viewing you as a business owner. This creates a gap in how personable your brand is online. Because I incorporate my personality into my branding and marketing, all of my clients are immediately more comfortable around me at their sessions, because they feel like we're already close friends simply from following my Instagram account! The fun, quirky things that make you YOU are what will also make your followers and potential clients fall in love with you! Plus, there is only ONE of you…so it automatically separates you from any other photographer around you!
3. Build the RELATIONSHIP
Now, ideally, your client has found you online and fallen in love with your client experience and with YOU! So, when someone is ready to book, I have to be intentional about continuing that personal relationship. If someone feels like they already know me just from following me online…I want to feed into that mindset! I want all of my clients to feel like they are FRIENDS and that we have a personal connection outside of just them paying for a service! This doesn't just improve their client experience…it increases their likelihood of sharing about me online and referring their friends to my business! One of the BEST ways to build this relationship is to incorporate a questionnaire into your client experience!!I use a program called HONEYBOOK for my booking process with all of my clients (including payments, contracts, etc.). After a senior client books me, they receive a senior questionnaire that contains questions about who they are and what they expect from their session. It allows me to help prepare and execute a personalized experience - as well as get conversation starters to build our relationship during the shoot! To help you incorporate this concept into your sessions - I am giving away MY very own senior questionnaire for FREE! This is the exact questionnaire that I send ALL of my clients upon booking - and I hope that it is so helpful to you!!!
DOWNLOAD THE FREE QUESTIONNAIRE HERE!
Hope Taylor is an industry-leading wedding photographer located in Fredericksburg, VA. Her journey of becoming a full time business owner immediately after graduating high school gives her a very unique perspective on entrepreneurship and business. She feels very strongly about educating and inspiring other creative small business owners to fearlessly pursue their dreams while also providing the practical tools that they need to get there (while also obsessing over peonies, buttered popcorn and mint chocolate chip ice cream).