Bridal Expo Booth Inspiration


Over the past few years, I've spent countless hours planning my bridal expo booth layouts without much inspiration from which to work. I've come to realize that many wedding vendors do not think to share their beautiful booth set-ups, and that's something I'd like to change as a wedding photographer. We spend so much time and energy crafting our expo displays that sharing it with others who are looking for inspiration seems, to me, like a no-brainer! Creative professionals are visual people who would find benefit in drawing on inspiration from real booth set-ups. I've come to experience this frustration first-hand and eventually felt that I could help fellow wedding industry professionals who were struggling with the same process of booth design that I was. Hopefully, these pictures and tips will get you started!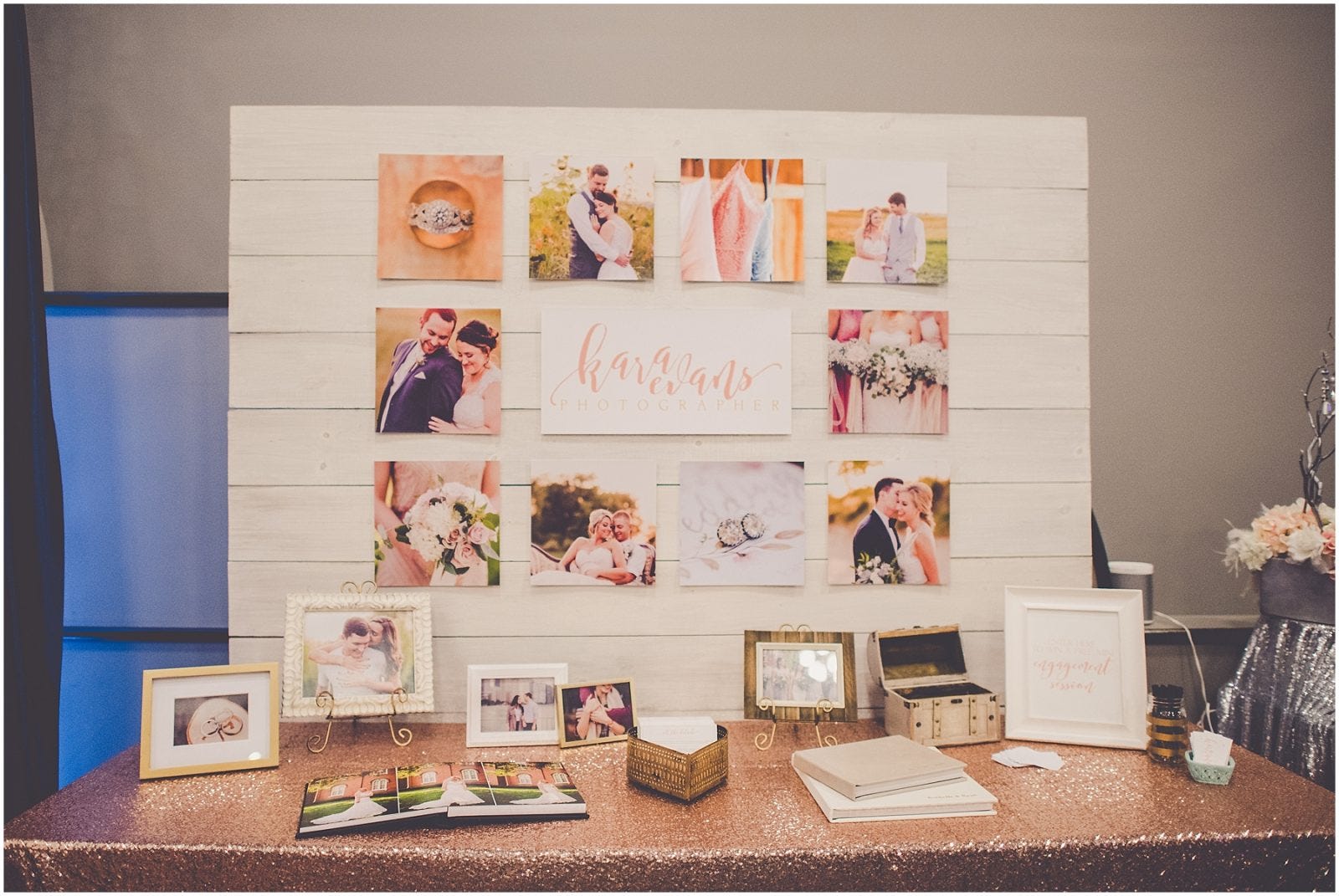 During the first stages of planning your booth, I recommend that you allow your brand to direct the entire booth design and styling. This is an easy and obvious place to start if you've established your brand identity. Ensure your brand colors can be found throughout the display, and that your brand collateral is easy to locate. Of course, you want your logo to be in the center of the display, or at least large enough that it's one of the first elements that your potential clients will see.
From there, determine the display essentials such as a backdrop wall, table display, or even a photo-booth set-up. I decided to include a backdrop wall in all of my booth set-ups so potential clients can see more of my images on display. My backdrop system has evolved over the years, but I was lucky enough to receive support from my husband and father, who helped to build the perfect DIY backdrop wall. My custom-built wall is free-standing (as pictured above) and is made of horizontal wooden planks that I white washed with chalk paint. When building the wall, it was a must that the backdrop be safe, sturdy, AND easy to transport to the various bridal expos I attend. Luckily, It checks all of those items, and more, off of the list! When planning your larger booth elements like tables and backdrops, ensure they're easy to set-up and transport as you'll often be the only one installing them!

Once you've got the display planned, then you can move into the fun part of planning the details! For example, on the backdrop wall, I opted to mount square prints of my images and my logo print. If you're looking for a truly stand-out print display, then CG Pro Prints Canvas Wraps are a great option as they're lightweight, durable (so they transport well) and are easy to hang on various backdrop styles. I'd highly recommend adding a mix of prints to your display to help your clients imagine the print possibilities and begin a subtle sales process before they even book you! This includes not only wall display prints but also albums, table-top items, and framed options as well. Incorporating these prints into my display ensures my photographs and my brand identity are the forefront of the booth design. Talk about being brand on-point! 

When it comes to the other details of your booth, I recommend always drawing inspiration from your brand and brand collateral. Of course, you can pull from additional aspects of your business like your office or workspace. Ideally, your workspace matches your branding, with a subtle addition of some "you" elements to make it personal, so this is a great place to use for inspiration! For example, my brand colors are rose pink and gold so I always include a table dressed with a rose gold sequin tablecloth set with eye-catching gold easels on top (pictured above). Be careful not to overwhelm your booth with your chosen brand colors, but ensure that they are the main color accents within your display.
For fun, I suggest adding items like a giveaway bin or "selfie-booth" or other unique incentives that will help draw the attendees into your space. Of course, most or all of your goodies should be branded to keep your business top of mind. Other branded elements that I always incorporate into my booth are referral handout cards and business cards for the bridal expo attendees. This gives them a takeaway to remember you by, and incentives to spread the word to their fellow engaged friends! When you're planning all of these elements, my biggest tip is to ensure that they can easily fill any size space. Having this flexibility will be a huge help if you attend more than one show as all expo floors are different. For example, when I purchase more booth space, I have additional booth variations that include teal accent chairs, a fluffy white rug, and an adorable side table to welcome bridal expo attendees into my booth. These larger items won't fit in every display, but they certainly help me standout in the larger spaces!

No matter what, your bridal expo booth should be a culmination of your brand and yourself! Don't shy away from the elements that make your brand "uniquely you" as these will be your key differentiators in a sea of other displays. The best way to finalize your booth design is by introducing different display elements at each show and determining which work best for your goals. Have fun with the "trial and error" stages and enjoy the process!
---
About Kara Evans
I'm Kara Evans of Kara Evans Photographer – a natural light wedding and family photographer located near Bourbonnais, Illinois. My work is known for its natural, simple, and lovely style that evokes emotion. I serve Chicagoland, Central Illinois, and beyond. My goal as a photographer is to provide an experience and build a relationship with each and every one of my clients; From the very first wedding inquiry email to album delivery after the wedding day. My job is to serve and love my clients!
Website |  Facebook  | Instagram | Coaching